Written by Christopher F. Schuetze and Melissa Eddy
Weeks before he opened fire on his former congregation at a Jehovah's Witness hall in northern Germany, the authorities had checked on the gunman but determined that they did not have the grounds to seize his weapons, officials said Friday.
The gunman killed six people, including a pregnant woman, before turning his weapon on himself as police stormed the building in Hamburg on Thursday in what authorities called "the worst such mass shooting incident of this dimension" to affect the city.
A seal is seen on a door with a broken glass pane at a building housing a Kingdom Hall of Jehovah's Witnesses where a deadly shooting took place, in Hamburg, northern Germany, March 10, 2023. (REUTERS/Fabian Bimmer)
In keeping with German privacy laws, the police identified the gunman only as Philip F., a 35-year-old German who, according to authorities, had been a member of the congregation up until a year and a half ago, "but apparently did not leave on good terms," said Thomas Radszuweit, the head of state security in Hamburg.
Mass shootings are extremely rare in Germany, where regulations limit who can own a weapon and make training and testing compulsory before a gun can be purchased. Fully automatic weapons are considered "weapons of war" and are illegal.
In January, authorities responsible for weapons control received a letter saying that Philip F. "harbored a special rage against members of religious groups, especially the Jehovah's Witnesses," Radszuweit said.
Several weeks after receiving the letter, police sent an unannounced team to Philip F.'s home to inspect whether he was securing his weapons and ammunition in a safe, as required by law, and to speak with him.
They said that he had been open and cooperative and, with the exception of one stray bullet outside the safe, that everything was in order. They gave him a verbal warning.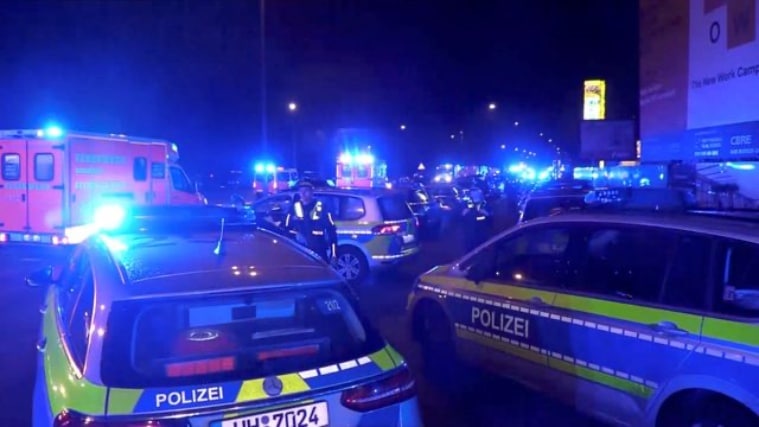 Police secure the area following a deadly shooting in Hamburg, Germany, March 9, 2023 in this still image taken from video. (Reuters)
The law in Germany also limits authorities' ability to take steps to remove weapons from an owner who is licensed to possess them. In the case of Philip F., because the letter was written anonymously and provided no evidence, there was little authorities could do, officials said.
Andy Grote, senator of the interior for the city-state of Hamburg, described the attack on Thursday as "the worst crime in the recent history of our city." As well as the six people killed, eight others were wounded. "It is a horrific act — and it is a horrifying act," Grote said.
Police officers responding to the first emergency calls entered the Jehovah's Witness hall as they heard shots ringing out from inside, authorities said at a news conference on Friday. They found injured people on the ground and saw a man with a gun run to an upper floor of the building.
A special unit then arrived and isolated the gunman, an approach that prevented others among the roughly 50 people gathered in the building from being killed, said Matthias Tresp, the chief of special police in Hamburg.
"The immediate action saved the lives of many people," Tresp said. Four men and two women were killed in the attack. One of the women was pregnant, and her 7-month-old fetus also died, authorities said.
The gunman was armed with a semiautomatic handgun, one of the weapons that he was legally allowed to own. The gun was found next to his body, authorities said.
Nine empty magazines, each capable of holding up to 15 rounds, were found at the scene, along with a backpack filled with 20 more magazines, Radszuweit said. Another two magazines were found on the gunman's body. Philip F. obtained his gun license in 2022 and had legally acquired his weapon, authorities said.
The Jehovah's Witnesses, a denomination founded in the United States in the 19th century, has been active in Germany since 1902. They make up a relatively small religious community of about 175,000 adherents in Germany, which is home to nearly 900 dedicated "kingdom halls," as the group calls its places of worship.
Persecuted by the Nazis and carefully watched by the Communist secret police in the former East Germany, the group struggled for decades to be given equivalent status to Germany's other religious communities. That was granted beginning in Berlin in 2005.
Chancellor Olaf Scholz, who previously served as mayor of Hamburg, and President Frank-Walter Steinmeier were among those who offered their condolences in the wake of the shooting on Thursday.
In a statement, the Jehovah's Witnesses organization in Germany said, "The religious community is deeply saddened by the horrific attack on its members in a kingdom hall in Hamburg after a church service."
The first calls about the shooting were made to the police at 9:15 p.m. Residents in the area, a normally quiet neighborhood in northern Hamburg, said that they had been stunned to hear shots ringing out from the building where the religious community met.
"I starting filming with my phone, and through the zoom, I could determine that someone was shooting," Gregor Miebach, a student who lives across from the hall, told the German channel N-TV. "There were at least 25 shots that I heard."
The special police unit that responded happened to be in the area and arrived within minutes, authorities said, with officers then working their way up through its three floors.
"After the police arrived, there were no shots for a while," Miebach said. "After about five minutes, there was one single shot."