Staff at airports across Germany are set to strike on Monday as part of the latest collective action called by trade union Vereinte Dienstleistungsgewerkschaft (ver.di). Airport security in Berlin, Hamburg, Hanover and Bremen will walk out over ongoing pay disputes, leading to hundreds of canceled flights.
Fresh strikes to hit Germany
In the latest wave of industrial action to hit German aviation, security staff at Berlin Brandenburg Airport (BER), along with employees at Hamburg, Hanover and Bremen airports, will conduct a strike tomorrow (March 13th). The walkout will begin in the early hours of Monday and finish late at night, leading to scores of cancelations and expected delays.
As reported in the Washington Post, Ver.di said in a statement,
"Ver.di calls for appropriate pay for flight security personnel who are working at unfavorable times. Supplements have not been improved since 2006, and we have been on and off negotiating a raise ever since 2013."
Photo: Jiaye Liu | Shutterstock
As a result of the action, the union warns that passengers will almost certainly face longer waiting times and significant delays. Ver.di has called the strike as negotiations on a new collective agreement continue to get nowhere – it has been negotiating with the Federal Association of Aviation Security Companies (BDLS) for a number of years and wants a change to the low pay and inconvenient working hours for its security staff members.
Ver.di expects around 300 members to participate in the strikes on Monday, while the union will also hold a rally in front of the BER terminal on Willy-Brandt-Platz​​​​​​.
Hundreds of flights canceled
So far around 200 departing flights at Berlin Brandenburg have been canceled, affecting 27,000 passengers, along with 244 flights (123 departures and 121 arrivals) at Hamburg Airport (HAM) impacting over 30,000 passengers. Hamburg Airport added that "no regular departures will be possible" between 22:00 Sunday to 23:00 Monday, with some arriving flights possible during this period but accompanied by heavy delays.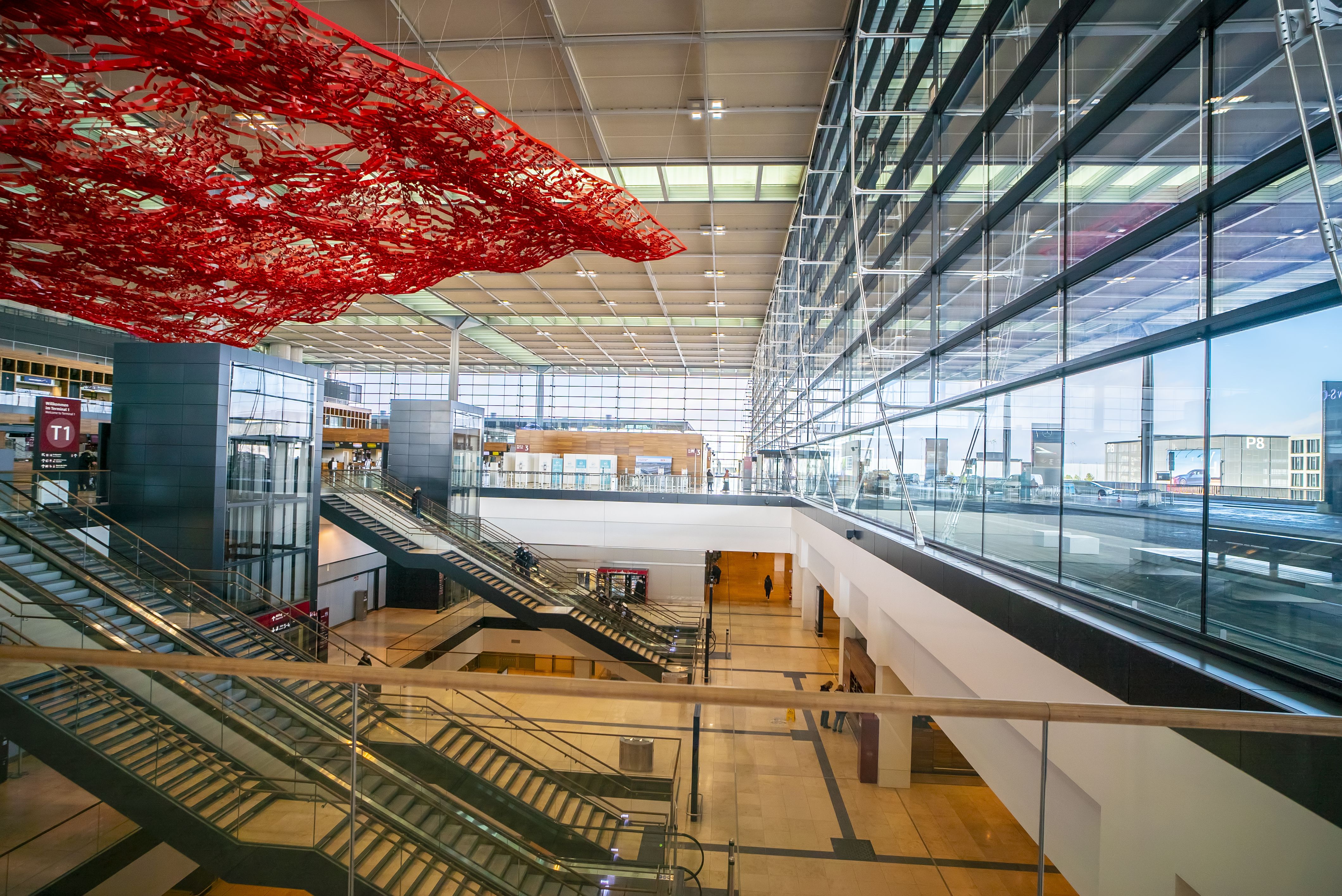 Photo: 4kclips/Shutterstock
Flight tracking website FlightAware reveals that 17 flights from Hanover and 11 from Bremen have been canceled so far, with these figures likely to go up. German carrier Lufthansa has responded by contacting customers and providing alternative travel arrangements, adding that it expects "massive disruptions to flight operations and a significant number of flight cancelations" on Monday before a return to normality on Tuesday.
Latest disruption
Germany has been hit by a series of strikes in the last few months, including major strikes in February impacting its two largest airports – Frankfurt Airport (FRA) and Munich Airport (MUN) – mirroring a trend across Europe.
Another ver.di strike in February saw the majority of flights at Düsseldorf Airport (DUS) and Cologne/Bonn Airport (CGN) canceled after the union's chairman warned it would "up the ante" to place further pressure on employers – this came after an earlier strike at Düsseldorf in January led to around 90 flight cancelations.
Has your flight to/from one of the affected airports been canceled? How has the airline responded? Let us know in the comments.
Source: Washington Post